Whether you're fashioning a kitchen for your brand new modular or conventionally built home, or remodeling the kitchen that you have in your older home, you can still design it to reflect your unique style or personality. Even if your kitchen is so small that you have to close the refrigerator door to open the dishwasher, there are still ideas that will improve its functionality.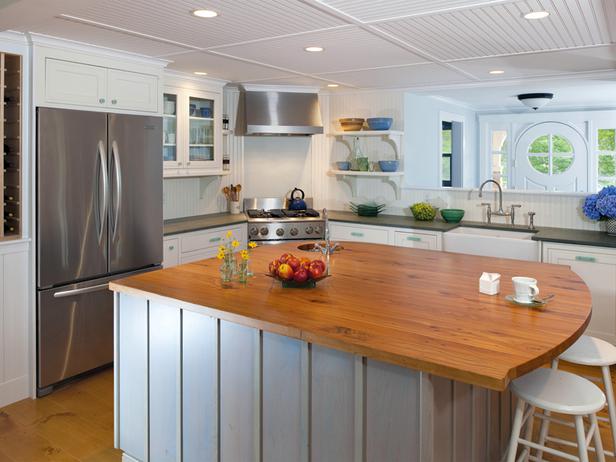 Many kitchens have an island in the middle that serves as a workstation, thus providing more room for other counter tops to hold additional items that are deemed necessary for the well stocked kitchen. With a little imagination, that table top can also serve in other ways. Provide seating at one end, with leg room of course, and you have a snack or dining area. In a small kitchen, this idea can be modified to locate the 'island' in an adjacent dining room, thus providing a more kitchen space and close by work area.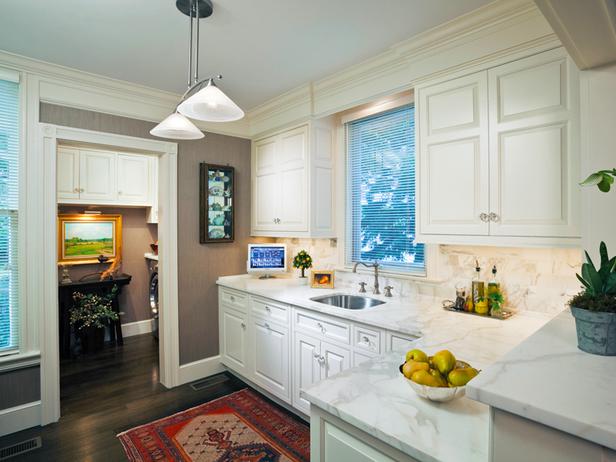 Your kitchen can take on a richer look with marble, or marble-patterned Formica or other laminate counter tops. Ceramic tile will also provide an attractive surface as well as a backsplash. Wood floors also add richness, as will an appropriate water resistant wall covering. Crystal, brass or chrome pulls will add a little class to your cabinets and drawers.
White cabinets are often a good choice if the kitchen area needs more light. Although sometimes boring, they can be spruced up with brightly colored pulls, and perhaps a little trim in a similar color.
Do you have a laundry room or other utility room next to the kitchen? Consider those areas for additional storage. Canned and dry foods, pots and pans, little used appliances can all be kept out of sight, but still near by.
HAVE A LOOK AT SOME OF THE HOMES WE'VE BUILT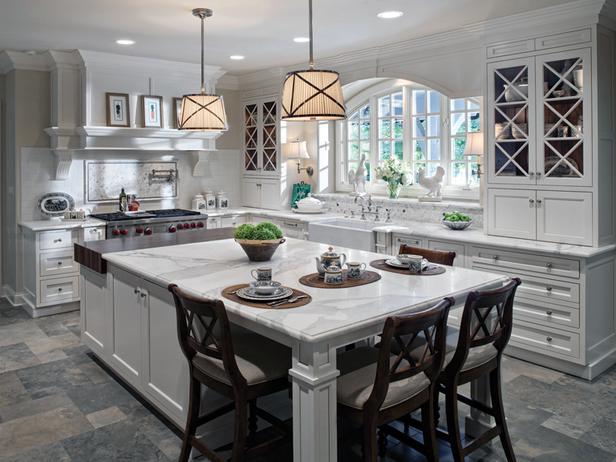 Windows can be made more attractive with something other than the standard square frame. How about some small round or oval windows, above, below, or on either side of the regular window? An arched window will also attract attention, especially if it's complemented with matching arched doorways. If you really want to go the extra mile, a stained glass panel or two would provide an added draw. Wide windowsills will provide shelf space for antique glassware, potted plants, or any other knickknacks appropriate for display in your kitchen.
When looking for additional style to add to your kitchen, think about including some molding around your ceilings, and chandelier lighting. Maybe some attractive drapes or curtains would add to your decor, either around windows or draped over a less than attractive area of your kitchen wall.
If you fancy the unusual, pattern your design with a cultural flair, such as native American, Nordic, or the bright colored designs of Mexico. Or even better, your own cultural heritage.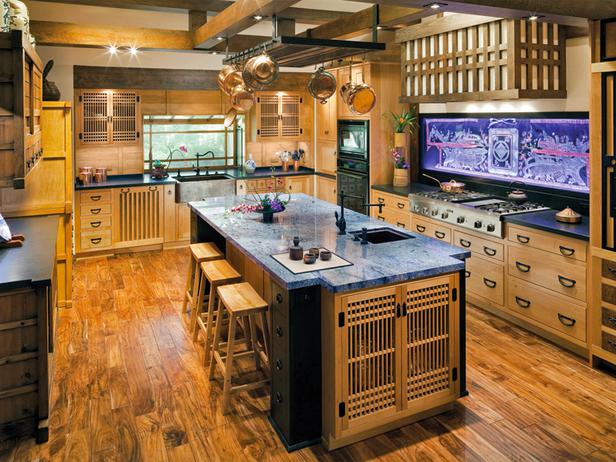 Try to make space in your planning for fun things, too. A wine storage area, a wet or coffee bar – or both. Look around, they might fit on or under the aforementioned island, or on the end of a counter in a little used corner.
If your kitchen is small – or even if it's not, visit the kitchen supply store, and your builders supply. You'll find all kinds of hooks and hangers and space saving devices. You might find you have more room in your kitchen than you ever imagined.