If you are lucky enough to have your manufactured home installed on your own lot, the possibilities for porch designs are endless. However, those owners who have to work within the confined space of a small rented lot in a "mobile" home park have more of a challenge.
Whatever your needs, maybe some of the ideas presented below will help you spark some ideas of your own, and your home, too, can become one of those enviable manufactured homes with porches.
1. What condition is your wood floor in? If it needs to be replaced, look into bamboo. The hardness of bamboo makes it a popular choice for flooring. And besides its durability and strength, it is resistant to insects and moisture. An added bonus? It's eco-friendly.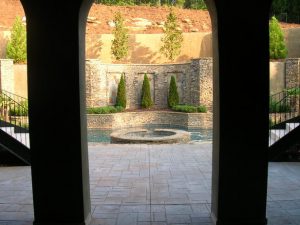 2. Consider building a circular stone pit either on, or adjacent to, your porch. This can become a fire pit or hot tub depending on your design, or what facilities you have within reach. If you're redoing the fence or railing around your deck, how about fence "posts" or stanchions built from the same type of stone.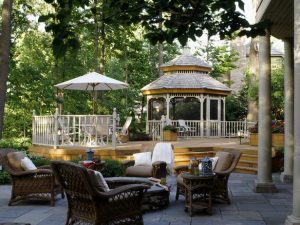 3. If you have space available, maybe a gazebo. This can be designed to stand alone, or built as a shelter around the pit described above. If you're an outdoor chef, a built-in barbecue, again using matching stone, would be a nice touch.
4. Is your deck small? And you need more seating? Build a continuous bench around the perimeter. Add removable cushions. If you have company only infrequently, it can double as a shelf to hold potted plants or garden elves. A container garden!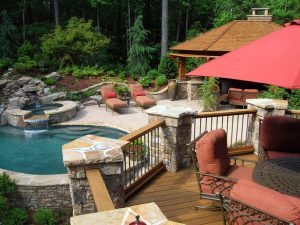 5. A fountain is always a welcome addition. Build one if you have the talent, or have it installed. If your space is limited, a small, portable one from the local boutique or garden store will do the trick.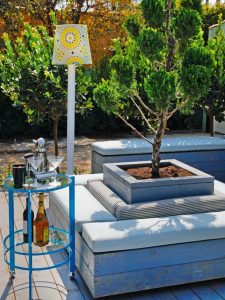 6. Plan for evenings by installing some decorative lighting. Check with your dealer for ideas. If your porch is open to the weather, make sure make sure that you're getting outdoor fixtures. And remember, compact florescent light bulbs can double as grow lights.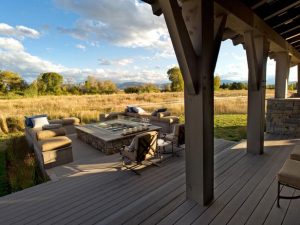 7. If your neighborhood is relatively free from crime, you might want to find a place for an entertainment center to add soft music to your outdoor retreat. If you lack the space, mount a couple of speakers and channel it from indoors.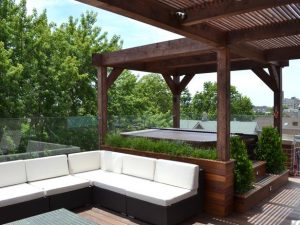 8. Is your deck is surrounded by a stone or brick wall? Tempered glass windows mounted on top of it will not block your view from the porch, but will help protect it from the weather. Keep in mind, however, the interior will attract more heat if the glass catches direct sunlight.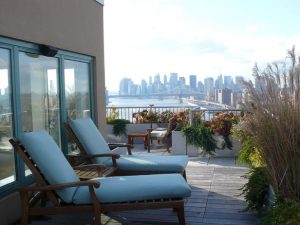 9. If your view isn't that great, or if you prefer greenery, place some decorative vines in pots around your deck and direct them to climb up the railings and stanchions. As they grow in density they will provide coolness and privacy.
10. Direct sunlight is often a problem with manufactured homes. Shadow panels placed in geometric designs to strategically block the sun will also add a colorful touch to your decor.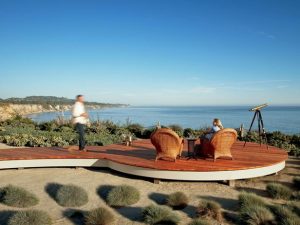 11. Manufactured homes with porches that are not attached to the house are popular if you have the space available. A flagstone walk or a boardwalk may be used to provide access to the free-standing patio area. It may be less noisy and, perhaps, provide a more pleasing view.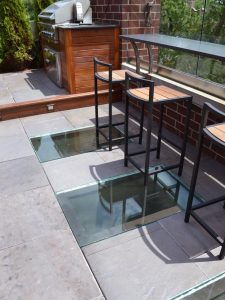 12. For a separate porch, or even one attached to the house, a skylight would be a decorative touch; and could allow for a little nighttime stargazing. A retractable awning might be easier to install over a pergola or trellis roof, and would serve a similar purpose.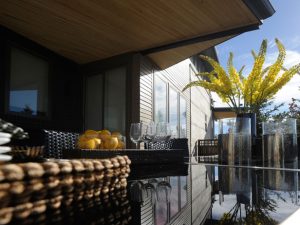 13. If you wish to picnic or serve refreshments, but lack the room for a large enough table, have small, stacking, nested tables that can be stuck away in a corner when not in use.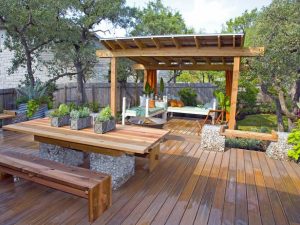 14. One last suggestion. If your situation is such that you can't get an idea from these suggestions, or a suggestion from these ideas, that you can make work, go back to square one. Start over. Maybe you can add an extension, an ell, or find some other way to change the configuration more to your liking. Perhaps you could move, or remove, something to make more room.
In the final analysis, it's your ideas and skills that will produce the end product. Good luck in adding to the growing number of manufactured homes with porches.